Research



Scarlet Alliance pay our respect to the elders and custodians of this land, we are a proud member of the Anwernekenhe National Aboriginal and Torres Strait Islander HIV/AIDS Alliance (ANA).

Scarlet Alliance is looking for sex workers to be involved in a national quantitative survey about sex work stigma. The survey results will be used to develop stigma reduction interventions.
You can complete the survey by visiting
http://bit.ly/stigmasexwork
This survey is the result of a partnership between Scarlet Alliance and the Centre for Social Research in Health at the University of New South Wales. It is part of a broader Stigma Indicators Monitoring Project which explores measures of stigma across a range of priority populations, including sex workers, drug users, people living with HIV and people in prison.
This annual quantitative survey instrument was developed via a consultative process with sex workers around Australia. Existing research conducted showed that sex work stigma was pervasive when sex workers were accessing a range of social goods and services. Sex workers from around Australia then identified new issues affecting sex workers during a workshop at a Scarlet Alliance National Forum in Adelaide November 2016.
These topic areas were then used to develop questions for a qualitative pilot study about sex work stigma. Scarlet Alliance and CSRH conducted national focus groups and interviews with sex workers in each state and territory. You can find some of the results of our qualitative research
here.
The findings of this qualitative project were then used to develop this new quantitative instrument that can measure sex work stigma on a larger scale consistently from year to year.
More information can be viewed here:
https://www.scarletalliance.org.au/library/Sexworkstigmaresearchcollaboration
Community report on the Sex Work, Mental Health and Stigma Paper can be viewed here:
https://www.scarletalliance.org.au/library/mentalhealthpapersummary
For more information please contact research@scarletalliance.org.au
To participate in the annual sex work stigma survey please visit http://bit.ly/stigmasexwork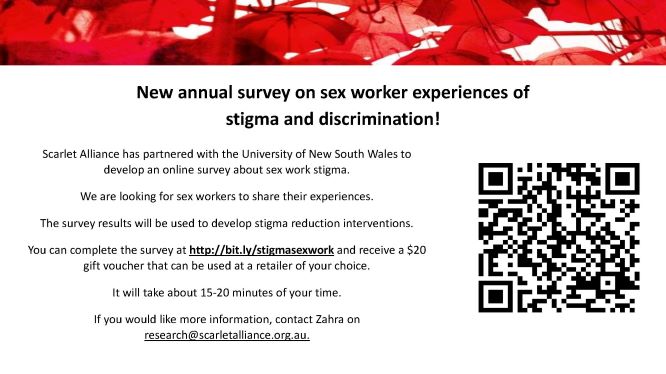 In this report the Australian Institute of Criminology, in partnership with Scarlet Alliance, Australian Sex Workers Association, presents one of the first pieces of research specifically conducted on the work and migration experiences of migrant sex workers in Australia. Importantly this is the largest project of migrant sex workers in Australia to date with involvement of migrant sex workers at all levels of the research process - from the design and conception of the research and survey to the reporting and analysis. The report is available to view and download from
https://www.scarletalliance.org.au/library/Migrantsexworkersreport2015
The Lancet Edition on Sex Work and HIV
"social, legal, and economic injustices contribute to their high risk of acquiring HIV. Often driven underground by fear, sex workers encounter or face the direct risk of violence and abuse daily. Sex workers remain underserved by the global HIV response. This Series of seven papers aims to investigate the complex issues faced by sex workers worldwide, and calls for the decriminilisation of sex work, in the global effort to tackle the HIV/AIDS epidemic."
Scarlet Alliance article in the AIDS2014 special edition of HIV Australia was launched at the AIDS Conference in Melbourne, July 2014
Janelle Fawkes, Chief Executive Officer reflects on sex work, HIV and the United Nations Political Declaration (UNPD) in the lead up to the 20th International AIDS Conference.
Anna Forbes and Scarlet Alliance Migration Project Manager Jules Kim co authored article on the AIDS 2014 Melbourne Declaration
Go to article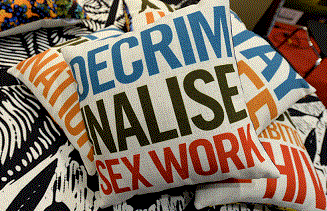 Peer Reviewed Academic Articles
Migrant sex workers and trafficking - insider research for and by migrant sex workers Kim, J., Jeffreys, E. ALAR Journal Vol 19 No 1 September 2013 p. 62-96 © 2013 Action Learning, Action Research Association Inc www.alara.net.au All rights reserved.
---
Mandatory Testing for HIV and Sexually Transmissible Infections among Sex Workers in Australia: A Barrier to HIV and STI Prevention
Jeffreys, E., Fawkes, J., Stardust, Z. World Journal of AIDS, 2012, 02, 203–211. DOI 10.4236/wja.2012.23026 ISSN 2160-8814, 2160-8822
---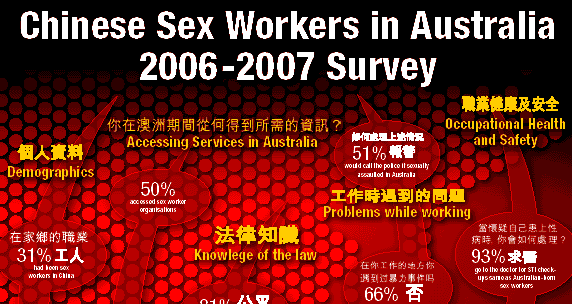 Chinese and other Migrant Sex Workers in Australia, Sex Work, Migration, HIV and Trafficking
Jeffreys, E., Perkins, R. 2011 Intersections, ANU, 26
---
Sex worker-driven research: best practice ethics.
Jeffreys, E., 2010. Dialogue, University of Queensland, 8
---
HIV criminalisation and sex work in Australia
Jeffreys, E., Matthews, K., Thomas, A., 2010. Reproductive Health Matters 18, 129–136.
---
The decriminalisation of prostitution is associated with better coverage of
 health promotion programs for sex workers
Harcourt, H,. O'Connor, J,. Egger, S., K. Fairley, C., K., Wand, H., Chen, M. Y., Marshall, L. Kaldor, J. M., Donovan, B., Aust NZ J Public Health. 2010; 34:482-6 doi: 10.1111/j.1753-6405.2010.00594.x
---
Anti-trafficking Measures and Migrant Sex Workers in Australia
Jeffreys, E. 2009 Intersections, ANU, 19
---
Contemporary sex worker cultural practice in Australia: Sex Workers' Use of Sex Industry Skills in Public Protest and Performance
Jeffreys, E., 2006. Journal of Australian Studies 115–126
---
The Trials of Tenofovir: Mediating the Ethics of Third World
Hammer, P., J., Lundstrom, T,. S. 2005 UTS Law Review, UTS
---
The Impact of Western Australian Legislation On Street Based Sex Workers
Dowd, E., 2002 Outskirts, UWA, 10
---
The Development of Theoretical Approaches to Sex Work in Australian Sex-Worker Rights Groups.
Hunter, Andrew. 1992.
Sex Industry and Public Policy Proceedings of a Conference Held 6-8 May 1991, pg 109–114. Australian Institute of Criminology.

---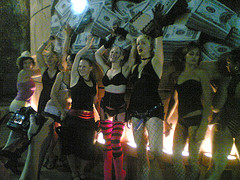 "Money Baby" - Sex workers gather in Las Vegas for the 2006 Desiree Alliance Conference. Photo by Melissa Gira Grant
Reports
The Sex Industry in New South Wales: a Report to the NSW Ministry of Health
Donovan, B., Harcourt, C., Egger, S., Watchirs Smith, L., Schneider, K., Kaldor, J.M., Chen, M.Y., Fairley, C.K., Tabrizi, S. 2012 Kirby Institute, UNSW
---
Listen to Sex Workers: support decriminalisation and anti-discrimination protections
Jeffreys, E., Autonomy, A., Green, J., Vega, C. Interface; A Journal for and about Social Movements 2011. 3, 271–287.
---
The sexual health of sex workers: no bad whores, just bad laws
Daniel, A. 2010. Social Research Briefs, No. 19 National Centre for HIV Social Research, UNSW ISSN: 1448-563X
---
The Sex Industry in Western Australia: a Report to the Western Australian Government.
Donovan, B., Harcourt, C., Egger, S., Schneider, K., O'Connor, J., Marshall, L., Chen, M.Y., & Fairley, C.K. 2010. National Centre in HIV Epidemiology and Clinical Research, University of New South Wales. ISBN: 978-0-646-54112-9
---
Scarlet Alliance brings Sex Worker Migration to Canberra
Jeffreys, E. Australian Feminist Law Journal 2008. 28
---
Sex workers and sexual assault in Australia Prevalence, risk and safety
Quadara, A. 2008 Australian Centre for the Study of Sexual Assault, 2008
---
Chinese Sex Workers In Australia Needs Analysis - 2006 - 2007
or Download "Chinese Sex Workers In Australia Needs Analysis - 2006 - 2007" Colour Poster PDF 3meg
---
Updated 16 December 2014