Education
Scarlet Alliance provides training and health promotion workshops to all sectors of the community and the sex industry. Our educators have a higher level of contact with sex workers than any other Government or Non-government Organisation and actively work with the industry to promote high standards of Occupational Health & Safety.
This high level of ongoing contact with sex industry workplaces and sex workers informs our knowledge and current understanding of all issues relating to or affecting the sex industry in all states and territories of Australia. This includes: new worker workshops for sex workers, best practice health promotion strategies, peer education, safe working practises, HIV/AIDS and STI prevention, gender and identity politics, women's rights, trafficking, sex worker mobility and migration, impact of legislation, model sex industry law reform, human rights, sex worker appropriate services from G.P.s, ethical research, sex worker rights, Australian and International sex worker rights movement, the realities & myths of sex work, and the basis of and impact of stigma and discrimination.
Our presenters hold the Diploma of Community Education and there are also 13 Scarlet Alliance Workplace assessors & trainers throughout Australia.
Our member organisations provide education directly to sex workers on outreach, in either place of work or central locations, individually or in small groups. Sex Industry workplaces or individual sex workers may organise training, education or information sessions directly with their sex worker organisation or project in their state. To get in touch with your local sex worker organisation check out these links.
Scarlet Alliance and its member organisations and projects have provided education sessions to a broad range of organisations and institutions including: AMA Australian Medical Association; TAFEs; Baptist & Anglican Churches; high schools; Universities; womens organisation, domestic violence services and more.
Examples of past Scarlet Alliance presentations & trainings:
2010
Sex Worker Sensitivity Training with Hope Street Womens' Space Project 2010
Presentations at the Political Science conference, University of Queensland, 2010
National Center for HIV Social Research annual conference, presentation, 2010
Workshops, stalls and a presentation at the "F" Conference in Sydney, 2010
Stalls at the Melbourne expo for Australian Youth Ambassadors for Development, 2010
2009
Trafficking issues training with Scarlet Alliance membership, December 2009
International Conference in AIDS in Asia and the Pacific (ICAAP) Presentation on HIV Criminalisation in Australia, August 2009
Sex worker research training workshop with sex workers from Asia and the Pacific, Bali, August, 2009
Anti-Slavery Project Conference, Presentation, 2009
Sex worker sensitivity training with Red Cross trafficking support program, 2009
Governance and Advocacy training with the incoming board of the new Queensland sex worker organisation March 2009 - July 2009
Blow his Mind - sex worker skills and tips, Sydney, Feb 09
Governance training and strategic planning workshop with Scarlet Alliance leadership and members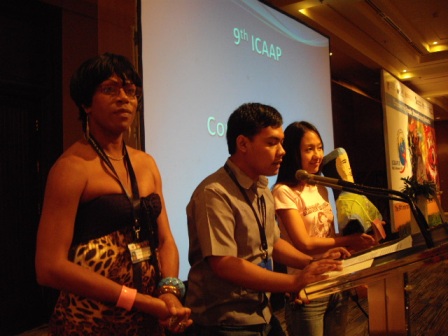 Sex worker representatives from Fiji, Indonesia and Thailand present the Sex Workers Statement - result of a full day workshop at the Bali ICAAP Conference August 2009
2008
Money Upfront - negotiating safe sex and money: a intimate look at the need for a state funded sex worker organisation in Tasmania, Hobart, August, 08.
HIV positive sex worker needs assessment outcomes, ASHM, Perth, Sept 08
HIV prevention strategies within the Australian sex worker populations an overview of successful implementation, International AIDS Conference, Mexico, Aug 08
International Harm Reduction Conference, Barcelona, May 08
Australian Institute of Criminology Roundtable on Trafficking, June 08
Anti Slavery Project Forum, UTS, July, 08
HIV poz needs analysis project, AFAO General Meeting, Sydney, 08
Capacity Development of sex worker groups in the region, Globali$ed Sex Work 2, Sydney, April, 08
2020 Summit, Canberra, April, 08
CALD sex worker services in Australia, Diversity In Health Conference, Sydney, 08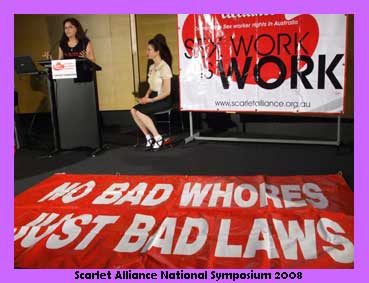 2007
Sex Worker Rights, 'Sex, Diversity and Social Justice' Social Work Students Conference Day, Cambeltown Tafe, August 07
Sex work community based organisations and effective HIV prevention programs for sex workers, Pacific Leadership training, ASHM - ALAF, Sydney July, 07
Sex Worker Peer Education, Queensland Sex Worker Services, Quahc, Brisbane, July 07
Sex Worker Organising and biomedical prevention technologies, IAS, Sydney, July 07
Journalist to Journalist Peer training, National Press Foundation (Washington DC), Sydney, July 07
Queer sex workers and history of the sex worker rights movement, Queer Collaborations, Hobart 07 July 07
Australian Female Sex Worker Health, Plenary NOWSA Conference, Sydney July 07
Feminism and sex work, ARCSHS, Melbourne, June 07
Globali$ed Sex Work Forum, Sydney, June 07
Historic Sex Work perspectives, $elluloid, International Whores Day, June 07
Harm Reduction and sex workers, Plenary at International Harm Reduction Association Conference, http://www.harmreduction2007.org, Poland, May 07
Chinese Migrant Sex Worker Services, Zi teng Conference, Hong Kong, May 07
Symposium panel paper presented as part of the Sex Work Research Panel and an Oral Paper - Safe sex police, public health responses to sex work, 18th World Association of Sexology Congress, Sydney, April 07
Ethnic Media, impact on prevention, AFAO General Meeting, Sydney April 07
Sex work, Metropolitan COmmunity Church, April 07
2006
Sex workers, real needs compared to stereotypes, Advocacy and Representation course, Welfare department, Ultimo TAFE, October 06
Issues in HIV Affecting CALD Communities, ASHM Conference, Melbourne, October 06
Skills, thrills and spills (oral paper), AWSA, Melbourne, July 06
Sex Services Premises Planning Guidelines,(oral paper) Revisioning Prostitution Policy Conference (Las Vegas) July 06
Sex worker panel, International Whores Day, Sydney, June 2006
Multicultural services in sex worker organisations, (panel) AFAO General meeting, Sydney, May 06
Multicultural HIV/AIDS Service, Organisation introduction,
Migrant sex workers and the impact of Anti-trafficking legislation, (presentation) Monash University, May 06
Stigma and discrimination within the Northern Territory sex industry, (panel) hosted by SWOP NT, Darwin, March 06
CALD sex workers, CALD HIV Roundtable, (presentation) Sydney, March 06
Providing sexual health services to sex workers, Staff of Sexual Health Services, Darwin, March 06
Guest speaker, Crime, Gender Law Sexuality, University of NSW, Feb,2006
AFP, Migrant Sex Workers Sensitivity Training, Canberra, Feb 2006
2005
Sex worker engagement in Australia, (workshop) HRRS Evaluation Forum, Port Moresby, November 05
Open source panel, Scarlet Alliance Website Working Party, Making Links Conference, Sydney November, 05
Projects in the Region, AFAO General Meeting, November 05
Migratory Sex Workers, SWOP & Scarlet Alliance co-presentation, Anti-trafficking Network, Sydney, October 05
Research and Sex workers, Oral Presentation, Auckland, October 05
Turning Tricks, poster presentation, Sex worker communicaty Cultural Practice, Auckland, October, 05
Scarlet Alliance National Training Project, Poster Presentation, Auckland, October, 05
Scarlet Alliance Symposium, Day 3 of National Forum, Melbourne, October 05
Pride, sex and diversity, Powerhouse, Brisbane June 05
PREP in the Region at the PREP Forum, Dockside Sydney June 05
Occupational Health & Safety at Forum XXX in Montreal May 05
Decriminalisation – best practice for public health outcomes, City Hall, San Francisco May 05
IGCAHRD, Melbourne, April 05
Women's History Month forum, Melbourne. MARCH 05
Women's History Month forum, Brisbane, March 05
2004
World AIDS day forum, Darwin, December 04
Migrant Sex Worker Issues Presentations, Australian and International Feminisms conference in Sydney, December 04
AFAO Web Workers Conference, workshop, Sydney November 04
CHA CHA CHA, Women's Legal Conference, Workshop, Brisbane October 04
Cha Cha Cha, Women's Legal Conference, Sub Plenary, Migrant sex workers and trafficking, Brisbane OCT 04
ABSO4, BRISBANE OCT 04
PREP, ASHM Conference, Canberra SEPT 04
AFP Training, Canberra AUG 04
XV International AIds Conference, Bangkok, July 2004
Queer Collaborations, Brisbane, July 2004
Human Rights Court, Sydney, June 2004
International Whores Day, June 2004
University of Queensland, May 2004
HHARD, HIV, Hep C & Related Diseases Sydney, May 2004
Out in the Sun – Legal Constraints and Possibilities in Protecting the Rights of Sex Workers, University of Hong Kong, May 2, 2004
AFAO, Australian Federation of Aids Organisations, Sydney, May 2004
WATL, Women and the Law, Brisbane, April 2004
International Womens Day, March, 2004
Feminista, QUT, Brisbane, February, 2004
For more information email info @scarletalliance.org.au or one of the Scarlet Alliance member organisations.